Spread Your Wings! is the opening theme for CureKurogane's Hetalia mahou shounen series, Hetalia Magix sung by J-Pop girl group, Perfume. The song is composed by CureKurogane and will debut in the first episode of Magix.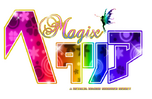 Boku no naka oshiyoseru fushigina pawā
Shiawase ni kanashimi ni kawari pawā
Sekai de yami de ippai koto
In'nā raito kuchibashiru junbi yo

Unmei wa sugu ni boku ni kite iru
Boku ni mawari kara no koe ga kikoe
Nukumori afure, shinpai wa kasuka ni natta yo
Karada wa ue no made ni tsunagu!

Spread your wings! Reach the sky!
Kaze ga tōku anata wo miyou!
Anata no kokoro wo kawaru ōhei yorokobi
Saki ni mirai wo terasu!

Spread your wings! Shining bright!
Eien ni bokura wa norikoeru!
Mahō no kimochi wa eien ni kawaru!
Anata wa jibun wo shinjite ireba!
Te wo nobasu to anata no chikara ga noboru nda!
僕の中押し寄せる不思議なパワー
幸せに悲しみに変わりパワー
世界で闇でいっぱいこと
インナーライト口走る準備よ

運命はすぐに僕に来ている
僕に周りからの声が聞こえ
温もり溢れ、心配はかすかになったよ
体は上のまでに繋ぐ!

Spread your wings!Reach the sky!
風が遠くあなたを見よう!
あなたの心を代わる横柄喜び
先に未来を照らす!

Spread your wings!Shining bright!
永遠に僕らは乗り越える!
魔法の気持ちは永遠に変わる!
あなたは自分を信じていれば!
手を伸ばすとあなたの力が上るんだ!
Wondrous power surging inside of me
A power that turns my sorrow to happiness
In a world that is filled with darkness
An inner light is ready to burst out of me

My fate is soon coming to me
I can hear the voices from around
Warmth overflowing, my worries fading
My body is connecting to up above!

Spread your wings! Reach the sky!
Let the wind take you far away!
Overbearing joy taking over your heart
Lighting up the future up ahead!

Spread your wings! Shining bright!
And forever we will overcome!
The magical feeling will change you forever!
If you believe in yourself!
Reach out and your power will ascend!
Full Version
Edit
| Japanese | Romaji | Translation |
| --- | --- | --- |
| | | |
Ad blocker interference detected!
Wikia is a free-to-use site that makes money from advertising. We have a modified experience for viewers using ad blockers

Wikia is not accessible if you've made further modifications. Remove the custom ad blocker rule(s) and the page will load as expected.