WARNING! This is property of the User User:FairySina!
You are not allowed to use ANY content of it, unless you have the creator's permission! If you steal anything, we will report you!
---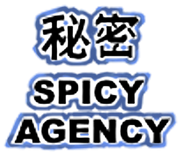 The Spicy Agency (スパイシーエージェンシー, Supaishī Ējenshī?) or as styled on their logo Himitsu Spicy Agency (秘密Spicy Agency, Himitsu Spicy Agency?) is a well known agency in Japan, whose main base is located in Tokyo. While the agency itself is well known, almost no one of the people know what the Agency exactly does. The Spicy Agency is a main location in Police Girl: Detective Blair. Spicy Agency is often shortened as SpiAgen (スパイエージェン, Supai Ējen?), which sounds like "Spy Agen".
SpyAgen Agents
Edit
Full Time Agents
Edit
Part Time Agents
Edit
Ad blocker interference detected!
Wikia is a free-to-use site that makes money from advertising. We have a modified experience for viewers using ad blockers

Wikia is not accessible if you've made further modifications. Remove the custom ad blocker rule(s) and the page will load as expected.