Hilda's decision
"Behold, my mini-Skyboom shield!"
Japanese title
究極のクライマックス!ヒルダVSワルプルギス! (The Ultimate Climax! Hilda vs Walpurgis!)
Episode Information
Episode no.
11
Directed by
Akiyuki Shinbo
Writers
Gen Urobuchi, Matthew Ordek
Airdate
October 2013 (Delayed) November 2013 (USA)

2014 (Japan)

Languages
English

Japanese

Duration
23 Minutes
Studio
SHAFT
Distributor
4Kids Entertainment

Magica Quartlet

Episode Navigation
Previous
Prelude
Next
Farewell, Molly
Hilda's decision is the 11th Episode of
Magical Molly!
to be added
Characters Appearing
Edit
Censorship/Changes from the Original Episode
Edit
Episode Releases
Edit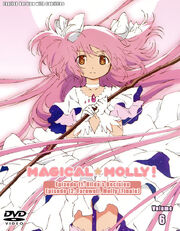 The Episode is released along with the finale in the final volume of the DVD.
Japanese Version
Edit
究極のクライマックス!ヒルダVSワルプルギス!  (The Ultimate Climax! Hilda vs Walpurgis!)
Ad blocker interference detected!
Wikia is a free-to-use site that makes money from advertising. We have a modified experience for viewers using ad blockers

Wikia is not accessible if you've made further modifications. Remove the custom ad blocker rule(s) and the page will load as expected.