"Let's see who would shine more! ~♥ "
~Freya's catchphrase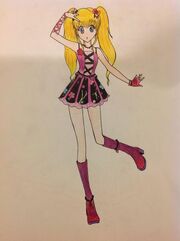 Freya Kanzaki is a new student at Dream Academy who was scouted by the 
Relationships
Asaka Kannagi: Her partner in a trio Idol group called Eternity. Asaka is a                                                                            student at Starlight Academy
Mugi Tokura: Her teamate from Eternity who graduated from Dream Academy. Mugi is the top designer of Midnight Temptation.
Lucas Toshiki: Ayumi's stepbrother who loves her dearly
Mizuki Ayako: Eternity's Manager 
Trivia
Her sign is Leo
She is 16 years old
Her blood type is A.
Her favorite foods are anything that consists of tomatoes and fragrant teas.
It's a secret what her disliked food is.
Her aura is composed of dark blue roses, magenta gems and black feathers
Her aura is commonly seen outside of the stage.
She is the top designer of the brand Holic Candy
Personality
Ayumi is cool, calm and elegant. She pratices her hardest to become the most known idol
Ad blocker interference detected!
Wikia is a free-to-use site that makes money from advertising. We have a modified experience for viewers using ad blockers

Wikia is not accessible if you've made further modifications. Remove the custom ad blocker rule(s) and the page will load as expected.